Staying beautiful longer: Building our ACI business
Our cutting-edge range of active cosmetic ingredients is the beauty of science, inspiring well-being.
There is an infinite diversity of beauty needs consequent to the world's population growing older, the trend towards urbanisation and increased disposable income. These offer many opportunities for an innovative and creative company such as ours. In addition to our fragrances, we have been building our business to deliver highly functional, high-performance products for our customers in the cosmetic sector.
We have recently set a clear path to be a key player in the active cosmetic ingredients (ACI) business with the acquisitions of Soliance SA in 2014 and Induchem AG in 2015. Also during 2015 we inaugurated a new CHF 11 million ACI production line at Pomacle in France, which will help us meet fast-growing demands from our customers for sustainably sourced products used in cosmetic applications.
These acquisitions and investments in our ACI enterprise mean we are well-positioned to not only provide a wide range of products but also deploy formidable R&D and production know-how in the creation of innovative and efficacious solutions for the cosmetics industry in skin care and hair care applications.
These applications include anti-ageing, self-tanning, moisturising, soothing, lifting, conditioning and shining. Most of our products are natural ingredients of 100% vegetable origin derived from bioscience techniques that make use of fermentation, bioconversion, biocatalysis, plant fractionation, green chemistry and marine micro-algae cultures. Some of our key products include dihydroxyacetone (DHA), a natural molecule used in self-tanning lotions and produced using a high-yield and sustainable bioconversion process. It also includeshyaluronic acid (HA), which is a key component of anti-ageing creams and is extracted from bacteria during fermentation, then harvested and purified for use as a powerful moisturising molecule; it also brings unique reparation properties according to the grade. Redensyl® is one of our latest launches, made by a biocatalysis route. It is the first generation of hair growth stimulating ingredient targeting follicle stem cells. In three months, it will give an equivalent result to hair transplant surgery.
Our ACI business also deploys metagenomics, which is the genomic analysis of microbial DNA extracted from communities in environmental samples. In the cosmetic space, a metagenomics study might be the direct sequence results of DNA extracted from the microbiote of the skin and the understanding of the positive impact of our actives on such microbiote. There is no doubt that metagenomics has the potential to take our ACI business into exciting new dimensions. Together with our strong R&D platform and wide range of products, we are well on the way towards our ambition to be a key player in the global ACI industry.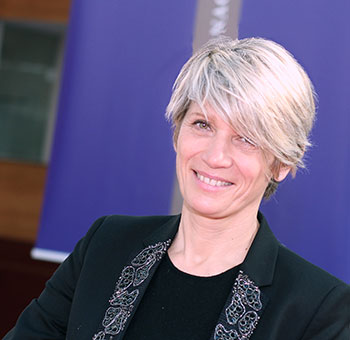 Q&A with Frédérique, Givaudan's Head of Active Cosmetic Ingredients
Integrating Induchem: the best of nature plus science-based innovations.
Frédérique has the task of developing our ACI business and making Givaudan a key player in the global ACI arena. She reveals how Induchem's expertise will help us serve customers in the cosmetic sector and bring consumers around the world the best from nature and cosmetic engineering.
What is Induchem and why was it acquired?
Induchem AG was acquired in August 2015 to continue building Givaudan's ACI business with science-based technologies. It was a second key step, after the acquisition of Soliance SA, towards our ambition to make Givaudan a significant player in the ACI business. Established in 1946 and based in Switzerland, Induchem develops and manufactures a wide range of ingredients for cosmetic applications. It has a total of 65 employees at Volketswil in Switzerland, Toulouse in France and New York in the USA, and a distribution network in more than 40 countries.
What expertise and portfolio does Induchem bring?
Induchem is known for its strong brand and innovative portfolio of products. As well as its range of active ingredients with proven efficacy, it produces carrier systems and other formulation ingredients such as exfoliants, polymers and additives.
Induchem's strong talent will complement Givaudan's highly diverse and talented employees and contribute to the development of a successful future together. As well as expanding Givaudan's product portfolio, the acquisition creates a strong R&D and marketing platform to drive future growth, in particular through its French biotech subsidiary Libragen. This is the 'R&D heart' of Induchem, and its focus is on ACI in the areas of biocatalysis, metagenomics and biochemical synthesis.
What is the future for Givaudan's ACI business?
Induchem's strengths are synergistic with those of Soliance, and give Givaudan access to the latest technologies to develop award-winning molecules and a new generation of cosmetics ingredients such as actives, biovectors, visual carriers, and exciting breakthroughs in skin care and rejuvenation. We always strive to deliver the best to our customers.