From sourcing to supply
Driving excellence through procurement and sourcing practices
Value creation comes from strong internal and external collaboration. We seek to maximise value with our suppliers of materials and services to create a differentiating and profitable business.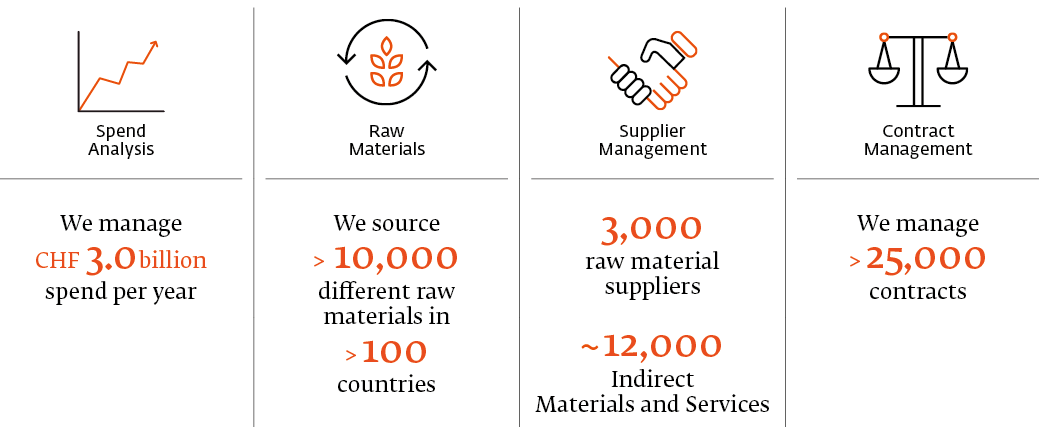 With an annual spend of around CHF 3.0 billion in raw materials and indirect materials and services, procurement is a strategic value creator that impacts Givaudan's responsible and shared growth.
Raw materials (RM)
Our RM team is responsible for purchasing all our raw materials globally – whether synthetics or naturals – to produce our flavours and fragrances. In order to increase our geographical footprint and spend control over time, we have integrated the locally sourced raw material activities into the global RM procurement function. This integration, in line with the GBS roll-out schedule, has been fully executed in Europe, the Middle East and Africa, and in North America Flavours.
Indirect materials and services (IM&S)
The IM&S team engages with internal customers at all sites to understand their business needs. This is a key element to success. Close collaboration at the early stage is fundamental in determining the right focus on strategic initiatives, negotiations and supplier management.
Procurement innovation
We have a well-established innovation team in procurement that works closely with category managers to foster supplier-enabled innovation and generate new business opportunities.
Together with the Science & Technology organisation, we have built a project pipeline of supplier-enabled innovation opportunities, presenting a busy agenda with a high potential for differentiation.
Sourcing for Shared Value
Sourcing for Shared Value covers all the different sustainability practices in procurement. We embed a sustainability purpose in all our sourcing activities and have a comprehensive approach that builds on and further strengthens the long-term commitment to sustainable procurement practices based on the principles of Responsible Sourcing, Sourcing at Origin and Communities at Source:
Responsible Sourcing drives compliance in the way products are produced and encourages suppliers to achieve high standards in health and safety, and in social, environmental and business integrity. 
Sourcing at Origin initiatives secure the traceability, supply and quality of key natural ingredients in countries of origin: by working directly with producers and suppliers while fostering local value creation.
Communities at Source projects support smallholder producers and their communities in our raw material supply chains.