Our people: A culture of performance
Delivering with excellence across the regions
Our business is about our people and their talent. It is their passion that continues the Company's long history of delivering with excellence and ensures the best possible customer experience.
Givaudan is the leading employer in the flavour and fragrance industry with a global workforce of almost 13,600. It is our people, working in a wide variety of roles, who help transform the original creations of Givaudan's talented perfumers and flavourists into products that are designed to satisfy the most demanding requirements. These innovative, creative professionals are fundamental to our success.
Number of full time employees by region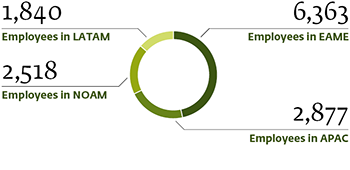 The number of our employees increased significantly in 2018 due to the implementation of Givaudan Business Solutions (GBS) and our recent acquisitions of Naturex and Expressions Parfumées.
This additional talent pool enriches our Givaudan culture and joins an already global and diversified workforce. Our strength and success comes from this diversity, giving us the Better Balance in the workforce needed to meet future business imperatives.
Talent, performance and culture
Our approach to value creation for our employees and a key driver of growth is in creating an environment where people impact their world and contribute to the Company's success. This is supported by an HR strategy which focuses on three areas: Talent – developing leadership capabilities and ensuring we have the talent that can deliver on the needs of tomorrow; Performance – including strengthening the way we have conversations in the organisation, and reinforcing the link between pay and performance; and Culture – including establishing our unique offering as an employer, what we stand for and how to make Givaudan a great place to work. GBS is a fundamental enabler of our HR strategy allowing all our HR people to focus on where they can bring the most value relating to Talent, Performance and Culture.
Towards a Better Balance
We are committed to a balanced and inclusive workforce. In reflecting the societies and cultures in which we operate, we aim to strengthen our teams by providing opportunities for people of all backgrounds, gender and locations without discrimination. A diverse organisation is essential to meet our business goals, to reflect better the customers and consumers we serve, to drive innovation and to create an inclusive culture where all our people grow and succeed. Our Diversity Position Statement outlines our commitment to ensuring a representative workforce that reflects the diverse communities in which we operate.
Employee relations
Our global workforce operates in an international market and must be capable of adapting to a rapidly changing market. We try to cultivate an environment where the employer and the employee can better understand each other's challenges and find ways of resolving them. This is done by establishing genuine dialogue with freely chosen workers' representatives.