Driven by a culture of innovation
To create differentiated solutions for our customers
A strong culture of innovation is vital in driving the long-term development of cost-effective and long-lasting differentiating solutions.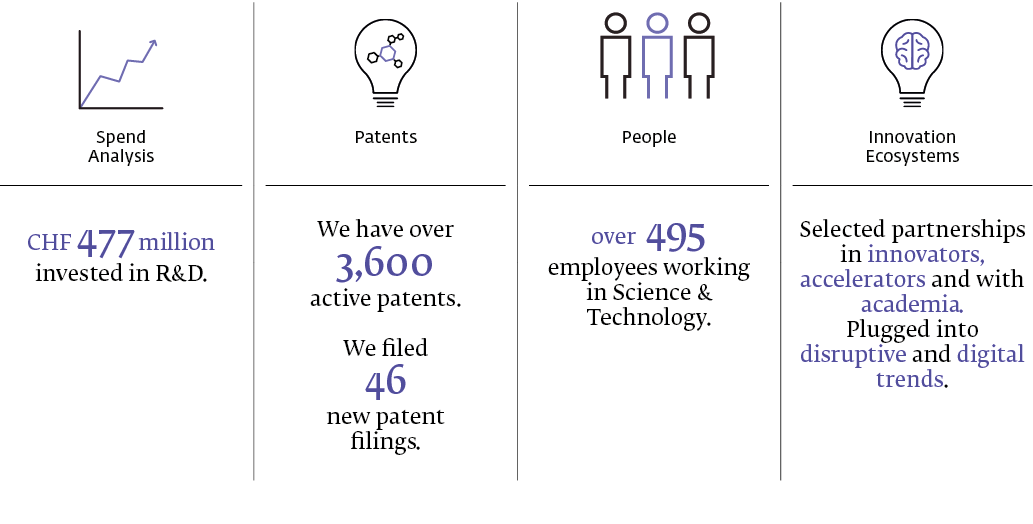 By being at the forefront of the innovation stage we can be the partner of choice in creating cutting-edge, sustainable solutions for our customers. Value creation comes by spreading a culture of innovation beyond our walls and, within the Company, across our functions and business divisions.
A culture of innovation
In every innovation journey, from concept to market success, we continuously strive to strengthen our learning, challenge our thought processes and enrich the outcome. To be openly engaged with a global strategic community – from corporate peers to academia, start-ups, and technology and solution providers – is a fundamental pillar of such a journey.
Technologies and products
The surprises that delight consumers in new and different ways originate from the inspirations of our Science & Technology teams, whose research and development is the starting point for our flavour and fragrance creations. Our scientists, technologists, flavourists and perfumers are central in the process of creating the engaging tastes or smells that consumers love.
Innovating responsibly
Sustainability is central in developing our new products. We ask if they improve access to safe, nutritious and sufficient food, promote health and well-being, and are sourced in a responsible way, making efficient use of resources and reducing the generation of waste. We also explore how we can best meet demand for natural products and improve processes to make them more sustainable.
Leading the industry's digital innovation
Our industry, along with our customers and suppliers, is moving to digital transformation as core processes as well as customer services are challenged by new opportunities offered by technology.