Compliance
Protecting our reputation
Givaudan's good reputation and name has been built over a long and rich history.
To preserve it, we are committed to adhere to the highest ethical standards in the way we interact with all our stakeholders – customers, suppliers, shareholders, employees, competitors, government agencies and the communities in which we operate. Being open, transparent and honest in our dealings with these stakeholders allows us to grow responsibly and share our success.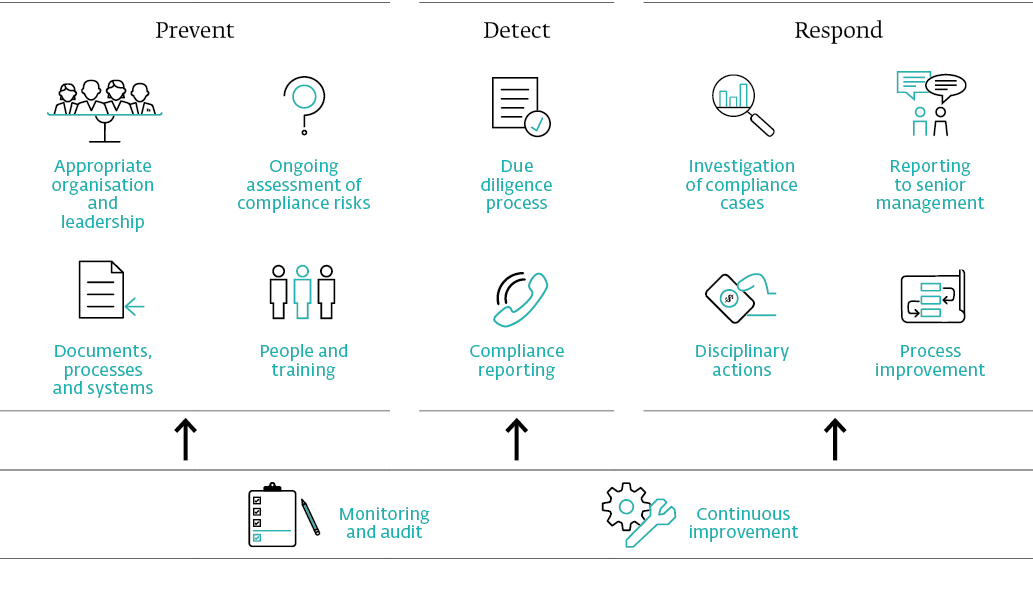 Principles of Conduct
The basis for Givaudan's ethical standards is laid out in the Company's 'Principles of Conduct', last reviewed and updated in 2018. The Principles of Conduct consist of three pillars: Legal & Ethical Business Dealings, Responsible Corporate Citizenship and Protecting Givaudan's Assets.
The Principles also include a section on 'How we live the Principles', which reiterates each employee's responsibility for ethics and integrity and explains the channels for reporting any violation of the Principles, including the worldwide Compliance Helpline.
Organisation and process
The Compliance and Ethics Programme is based on the compliance and fraud prevention concept of "prevent – detect – respond". The Corporate Compliance Officer oversees the administration of the Compliance and Ethics Programme and coordinates with dedicated functions for effective compliance management.
The Corporate Compliance Officer is assisted by a global compliance team and a network of local compliance officers and regional compliance coordinators to further enhance the function. The Group Data Protection Officer, reporting to the Corporate Compliance Officer, oversees the implementation of the Group Data Protection programme. In 2018, we passed and published a number of policies in the data protection area, including the Global Privacy and Data Protection Policy.
Anti-bribery management
The Principles of Conduct state that Givaudan has zero tolerance towards bribery and corruption, and does not make facilitation payments.
Most countries where Givaudan operates have strict anti-bribery laws, including the UK Bribery Act, the US Foreign Corrupt Practices Act, the French Loi Sapin 2 and anti-bribery laws and regulations of other countries where Givaudan either already does business or intends to do so.
Training and monitoring
New mandatory compliance training on the updated Principles of Conduct was launched in 2017 to all employees worldwide. The training material is available as online training in all major Company languages and includes material on anti-bribery, corruption and corporate social responsibility. The completion rate currently stands at 85%.