Chairman's introduction
Fostering a culture of excellence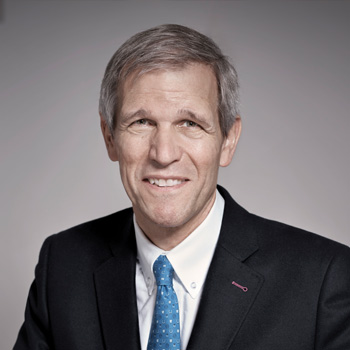 "In a challenging environment, we concluded a successful third year of our 2020 strategy with strong business momentum. I would like to thank you all for your commitment and investment in Givaudan."
Calvin Grieder, Chairman of the Board of Directors
In 2018, we delivered solid topline growth and free cash flow generation in line with our 2020 financial targets. On the basis of Givaudan's strong performance in 2018, and its continued solid financial position, the Board of Directors will propose an increase in the dividend to CHF 60.00 at the Annual General Meeting on 28 March 2019. This is the eighteenth increase since our listing on the Swiss stock exchange.
I am proud of the achievements we made in delivering a strong financial performance as well as continuing to invest into new businesses to create long term value. Powered by our vision 'to inspire emotion through our creations every day, everywhere, as we strive for a better tomorrow', we made great progress in many areas. Our strategic focus areas, driven by global megatrends and rapidly changing consumer desires have seen us continue to expand our global presence. We joined forces with companies that strengthen our existing capabilities, and evolved our business to ensure a superior customer experience and increased agility.
The shift to more natural products continues to present us with many exciting opportunities to provide solutions to our customers that meet this growing need. Consumers around the world are increasingly demanding more natural and organic products from food and beverage companies, and our role is to help our customers develop great tasting solutions that consumers will also feel good about. We invested in new commercial and creative centres to evolve our customer offering and ensure we deliver winning solutions. With the latest acquisitions we made in 2018, including Naturex, we have now become the undisputed leader in natural flavours and natural ingredients.
In 2019, the global economy will continue to face challenges from rising economic and political uncertainty in many parts of the world. Despite these challenges, we remain very optimistic about the outlook for our business. We are well positioned to take advantage of the trends of growing populations, people living longer and more responsibly, and accelerating urbanisation. Our broad business and 2020 strategic focus areas are fully aligned to these opportunities, and we continue to evolve our business to increase our agility to deliver to our customers, and respond to changing customer and consumer needs quickly.
Innovation, particularly in the areas of naturals and biotechnology remains an important focus. In striving for a better tomorrow, we will develop alternative sources of key natural raw materials, helping to protect these precious natural sources. We also see a strengthening of the role of biotechnology to offer our customers the ingredients palette of the future through the use of new, innovative processes. Digitalisation is opening up exciting opportunities to change the way we do business, either to provide new products and new engaging experiences or to design simpler, more agile business services. In January 2019, we opened our Digital Factory in Paris bringing together experts, partners and customers to accelerate digital transformation and innovation.
We also anticipate the impact of a changing workplace. Changing demographics means millennials and Generation Z will comprise half the workforce by 2020, as well as a greater participation of older age groups, with each group bringing new sets of requirements and expectations. Givaudan seeks a diverse organisation to meet our business goals, to drive innovation and create an inclusive culture where all its people can grow and succeed.
Succession planning for the Board of Directors and the senior management continues to be important for our future success. In 2018, Chris Thoen, Head of Global Science & Technology, retired from the Executive Committee. I would like to extend my warmest thanks to Chris for his contribution and many achievements at Givaudan. We have an experienced team in place at the Board level, and at all levels, we continue to ensure we have the necessary competencies, and the right blend of expertise and experience.
Ethics and integrity are vital values for us, as they inspire the trust we need to excel. To uphold these values, in 2018 we updated our Principles of Conduct, which enshrine our way of doing business in an ethical way and are shared with all employees worldwide. Ethics and compliance also form the basis for our successful sustainability efforts, which again has been recognised by CDP, the non-profit global environmental disclosure platform, awarding us an A- for climate change and water security.
As we look forward, I have every confidence that Givaudan will continue along its successful path, creating further shareholder value through profitable, responsible growth complemented with acquisitions. Drawing on our 250-year heritage, we will continue to demonstrate our resilience and ability to turn challenges into opportunities to deliver solid business performance.
My thanks and gratitude goes to my fellow members of the Board of Directors, the Executive Committee and all our employees worldwide, for their hard work and support. Their commitment and passion makes Givaudan a unique place to work.
Finally, I would like to express my thanks to our shareholders for your trust and continuing support. I remain confident Givaudan is well positioned for the future and long term success, and will continue its path of value creation and drive for excellence in the years to come.
Calvin Grieder
Chairman