Chief Executive Officer's review
Building strong partnerships with key stakeholders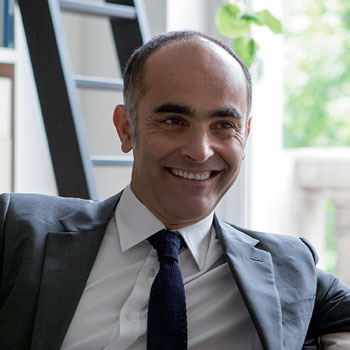 Gilles Andrier, Chief Executive Officer, answers our shareholders' questions about Givaudan's performance in 2017, achieving the second year of our 2020 strategy, and outlook on key priorities for 2018. 
What were Givaudan's major financial achievements in 2017?
With a set of solid results in 2016, the first year of our 2020 strategy, we continued through 2017 to maintain good business momentum against a backdrop of an improving environment in the second half of 2017. Our topline growth, with sales of CHF 5,051 million, an increase of 4.9% on a like for like basis, and 8.3% in Swiss francs, as well as our free cash flow of 11.8% of sales are both in line with the average financial targets we set for 2020. Our growth is well balanced between our Flavour and Fragrance divisions. We also continued to make strong operational progress across all areas of our strategic pillars of our 2020 strategy.
What were some of the challenges and how did you overcome them?
While we welcomed an improved external market environment through the second half of 2017, overall the market still remains challenging, particularly with pressure from our customers serving markets with fast and ever changing consumer desires. The pace of change shows no signs of slowing, and it is our ability to adapt and embrace change that allowed us to navigate these challenges and find new opportunities.
Following a prolonged period of weak macro economic growth in mature markets, we were pleased to see a return to a positive growth performance in the mature markets of Western Europe, the United States and Japan. There was good momentum in a number of high growth markets such as Africa and Middle East, as well as in high growth markets in Europe. We saw an improving growth momentum in other high growth markets, particularly in the second half of the year in China. We remain positive these high growth markets will continue to be an important contributor to our growth.
We continue to accelerate our local and regional customer strategy, build our capabilities with 'naturals' as well with more integrated solutions, and invest in the business with further expansion of our footprint, particularly in high growth markets. Foundations were laid for our new fragrance production hub in Changzhou, China, which will substantially increase our manufacturing capacity in the Asia Pacific region. We opened a new creative centre in Mexico City, which will bring us closer to key customers and their markets, in this region. A new fragrance encapsulation centre in Singapore, will begin operations in 2018, to enhance our leadership in encapsulation technology and production capabilities. We also continued to invest in our new flavours savoury facility in Pune, India.
Consumer demand for naturals continues to grow, particularly for flavours, where 43% of consumers consider an 'all natural' claim important to their purchasing decisions. We continue to respond to this through our recent strategic acquisitions, complemented by our procurement strength in naturals, to position us as our customers' naturals solutions provider.
What role did acquisitions play in supporting customer growth in 2017?
Our approach to acquisitions is to identify companies that strengthen or complement our existing capabilities, and allow us to provide even more solutions for our customers. We reached three important milestones this year in the Flavour Division with the acquisition of Activ International, and Vika B.V. and the announcement of the acquisition of the Nutrition Division of Centroflora Group. This supports our commitment to provide customers with a broader range of flavour and taste solutions that match consumer demands for clean label, organic and natural ingredients. We also continued to make good progress with the integration of Spicetec which is already resulting in new business opportunities.
To expand the capabilities of our fragrance business, we entered into exclusive negotiations to acquire Expressions Parfumées, a French fragrance creation house with a strong portfolio of local customers. They are also the first perfume house to have obtained the French Origin Guaranteed label and are pioneers of natural fragrance compounds. With each of these acquisitions, it is important we manage the integration as smoothly as possible, and work together to build the businesses.
What progress was made with Givaudan Business Solutions?
Ensuring every customer interaction is excellent at every touch point remains fundamental to our business, and our new GBS organisation supports us to achieve this. It is the foundation of our 2020 strategy pillar, 'delivering with excellence'. Following an extensive design phase, we started the implementation of GBS in the summer of 2017, through a phased approach beginning with Europe and APAC. GBS will provide best-in-class business services and solutions that support the Company to further improve our operational efficiency, and increase our agility.
We officially opened our new GBS centre in Kuala Lumpur in December 2017, which is strategically situated in Malaysia to enable Givaudan to deliver a superior customer experience as we continue to grow in the region and work towards achieving our 2020 ambition. In addition to Kuala Lumpur, we continued with the ongoing setup of two other regional GBS delivery centres, in Budapest and Buenos Aires.
What role did partnerships play in the delivery of the 2020 strategy for 2017?
Our collaborations with innovators, suppliers, employees and the communities, in which we operate, drive responsible and sustainable growth.
We are working with a number of external collaborators to create value through innovation. We started MISTA, a programme that focuses on delivering services to start-ups primarily in the Bay Area of San Francisco, and expands our New Product Development business model. We continue to be a founding partner of MassChallenge Switzerland, which allows us to connect and collaborate with high-tech start-ups that could help us transform our business, and we are in discussions with several of this year's finalists. Our investment in Sensorwake, a French start-up company, supports our ability to offer new opportunities for fragrance experience with the world's first olfactive alarm clock.
We officially launched DreamScentz™, an exciting patent-pending technology, linking fragrance with improving people's quality of sleep. This new technology was developed from years of research in our Sensory Centre of Excellence in Ashford. Other technology successes in 2017 include FreezeFrame®, to capture freshness and add taste and vibrancy to convenience food, and Givaudan Active Beauty's newest ingredient PrimalHyal™ Gold was awarded Best Colour Cosmeticcs Ingredients at the Global Beauty Industry Awards.
How we partner with our suppliers is also a key part of our 2020 ambition. To build on our commitment to sustainable procurement practices, we introduced 'sourcing for shared value', an approach covering three core areas of: 'responsible sourcing', 'sourcing at origin' and 'communities at source'. It reinforces our contribution to preserving the environment, stimulating the well-being of communities from which we source, and safeguarding resources for the long term.
Investing in our people is a critical part of ensuring sustained success, through developing the skills of our people, promoting a diverse workforce and succession planning, these all contribute to fostering a great place to work. Our Leadership Senses programme reached an important milestone this year, with all four programmes of Begin, Grow, Evolve and Enhance up and running. Over 600 leaders have benefitted from this specific focus on leadership needs. This also supports our focus on great succession and talent planning giving people interesting and varied career opportunities, and ensuring we can look within to fill key positions as the need arises.
With sustainability a key enabler of the 2020 strategy, how will 'a sense of tomorrow' support this?
Sustainable business is important for us, for our customers, consumers and wider society. We are consolidating efforts in three key focus areas: sourcing, innovation and the environment, under the umbrella framework of 'a sense of tomorrow'. By further building sustainable practices into the way we source materials, develop products and reduce our environmental footprint, Givaudan will be better able to meet our customers' needs today while anticipating ever-evolving challenges for our industry, our environment and society as a whole.
As part of our commitment to deliver on our 'Road to Paris' commitments, we announced we will implement ambitious new science-based targets (SBTs) to reduce greenhouse gas (GHG) emissions. We want to reduce GHG emissions from our operations and energy supply by 30% by 2030, while having a goal to reduce GHG emissions from our supply chain by 20% over the same period. We also want to increase our use of renewable electricity and have committed to sourcing 100% electricity from renewable sources by 2025. For the third year we received recognition from CDP for our climate action leadership, and in 2017 were awarded an overall ranking of A. We became a member of the World Business Council for Sustainable Development (WBCSD), working with over 200 leading businesses to transform global food systems.
What are the priorities for the business in 2018?
We remain focused on continuing along the path of delivering our 2020 strategy, being mindful of the shifting market environment and maintaining our customer focused mindset.
Responding to the rapidly evolving consumer preferences, and working with our customers, we will help them to make their brands desirable and successful. As required, we will pursue opportunities to acquire companies that further strengthen our capabilities. We will continue with the implementation of GBS, which will allow us to create the additional financial resources needed to continue growing with our customers in the years to come.
Harnessing our culture of innovation will remain critical to ensure we provide our customers with the innovations they need, as well find ways to do things differently to remain the market leader. We see many opportunities arising from digitalisation, in creating differentiated services and new ways of working with customers, partners and employees.
Our people are at the heart of our business, and we will continue to create a great a place to work where every employee is able to contribute to our success. This is supported by our strong and effective succession planning enabling us to appoint very experienced leaders from within Givaudan, and ensuring we are able to successfully execute our 2020 strategy.
2018 will mark our 250 years heritage of engaging people's senses, and our raison d'être remains, to inspire emotion through our creations every day, everywhere, as we strive for a better tomorrow.
I am excited about the year ahead, and continuing our journey to deliver our 2020 strategy.
Gilles Andrier
Chief Executive Officer