Stepping out for innovation inspirations
We are rightly proud of our own track record of excellence when it comes to innovation, but we know we don't have a monopoly and that we need to continuously 'step outside the box' to seek inspiration from the external world. We also know our resources are not unlimited and that we have to innovate faster and in wider spaces – and the only way we can do this is through collaborative innovation.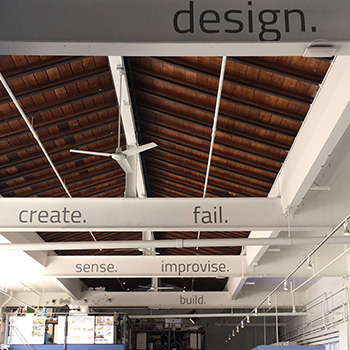 Against this background, all members of the Executive Committee and senior business leaders stepped out in 2016 to experience for themselves exciting new possibilities for a future world of flavours and fragrances on an Innovation Trek in the USA, the first of its type for our Company. It was an intensive three-day experience in San Francisco that explored new horizons in innovation and technologies and left the team inspired by the opportunities and collaboration possibilities to partner for shared success that will help drive further growth as part of our 2020 strategy.
The 19-strong team heard from Venture Capital managers, incubators, start-up companies and enterprises about their expertise and technologies that might be applied to the flavour and fragrance industry. 
They were the type of organisations that Givaudan is looking to for possible investments and direct collaborations for future business growth through innovation: start-ups and companies involved in biotechnology, diagnostics, digital solutions and other scientific areas. The team discussed with, for example, IndieBio, which focuses on funding and incubating start-ups that address a wide range of biotechnology topics.
When it comes to innovation, we are proud of our track record of excellence, yet we know we need to 'step outside the box' and seek inspiration from the external world.
A further example of our increased external engagement during the year was our founding membership of the MassChallenge Switzerland accelerator. Our membership will help foster a culture of open innovation and widen access to an international network and exposure to start-ups. We also formed a partnership with a young French entrepreneur, who participated in the MassChallenge accelerator, to provide fragrances for his new olfactory alarm clock, Sensorwake.
Collaborative innovations can also be internal, where we encourage cross-divisional communities of our people working on similar topics to share their knowledge and capabilities and experiment together to speed up their own projects.  
"We know we can't know and do everything on innovation ourselves. We just can't. We have limited resources internally even though we're the biggest player in the industry, therefore we need to partner and collaborate with the best outside of Givaudan," said Chris, Head of Global Science and Technology.
Overall, successful external and internal collaborative innovation will drive new business value for our Company. It is an avenue of inspiration that will create a new sense of possibility and opportunity, and be a continued route to innovation excellence and leadership.