Chairman's introduction
Solid performance, continued value creation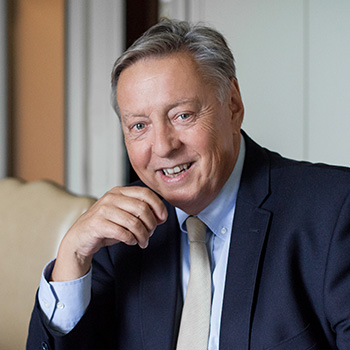 Givaudan concluded a successful first year of its 2020 strategy cycle, delivering healthy financial performance despite a continued unstable market environment.
The 2016 full-year results demonstrate solid topline growth and free cash flow generation, both in line with our projected average 2020 financial targets.
On the basis of Givaudan's strong performance in 2016, and its continued solid financial position, the Board of Directors will propose an increase in the dividend to CHF 56.00 at the Annual General Meeting on 23 March 2017, the sixteenth consecutive increase since our listing on the Swiss stock exchange.
The first year of our new five-year strategy cycle was marked by both business continuity and change. Givaudan continued to deliver a strong financial performance while focusing on long-term value creation for all stakeholders. Despite an ongoing unstable market environment, we made significant investments in future growth: the expansion of our footprint with new innovation and application centres, especially in high-growth markets, the expansion of our business through acquisitions, and the decision to evolve our organisation through Givaudan Business Solutions, a new global unit being designed and gradually implemented to ensure a superior customer experience by offering more agile and flexible processes, services and solutions.
It is likely that 2017 will be another year of low growth for the global economy. While we may see growth in some niche industries and in certain regions, the world will be under pressure from ongoing political, policy and economic uncertainties. World economic growth is predicted to be 3–4%, with China and India being the countries offering the highest growth in the range of 6–7%, while predictions for other high growth markets in Asia and Latin America are in the range of low single-digit growth. Mature markets are also expected to deliver low single-digit growth, with a slightly higher growth rate in the USA. Global megatrends will continue to influence our society and consequently the Flavour and Fragrance industry. Against this backdrop, the increase of the global population, rising life expectancy and ongoing urbanisation will continue to drive demand for personal hygiene and fragranced products, as well as convenience food and beverages. I am confident that, as industry leader, Givaudan is in a strong position to create consumer preferred flavours and fragrances that grow our customers' brands and bring about shared success as we move forward on the road to our 2020 ambition.
In October 2016, I announced my intention to retire as Chairman and a member of the Board of Directors. Looking back over the past 18 years, both as CEO and as Chairman of Givaudan, I am humbled to have been entrusted to lead this Company through many challenges and successes and to have been able to ensure ongoing investment and growth in all areas of our business, along with continued value creation – in the form of dividends and share price appreciation – since the IPO in 2000. I draw my confidence in Givaudan's future growth from its 250-year history, a story that has been built upon a culture of mutual respect, passion for value creation and an unwavering commitment to satisfy consumer desires and customer demands.
Givaudan's next chapter of value creation rests upon the principle of 'Responsible growth' and 'Shared success'. I am particularly pleased with our recent achievements in the areas of governance, responsible sourcing and succession planning. In 2016, we further enhanced our governance model through a newly created Science and Innovation Committee, which advises the Board of Directors in scientific matters, identifies opportunities and screens potential partners and projects in the innovation space. In addition, we reconfirmed our commitment to high ethical standards by updating our Principles of Conduct. Given our own commitment, we want to work with partners who aspire to the same ideals as we do. In 2016, we further strengthened this commitment by issuing a Responsible Sourcing Policy that seeks to ensure that our suppliers comply with strict requirements for health, safety, social, environmental and business integrity. I am also proud of our programmes to ensure industry-leading sourcing at origin, securing our supply of the most vulnerable natural ingredients, like vanilla, patchouli or ylang ylang, while creating local value and supporting communities at source.
Succession planning remains a strong focus for our future success. I am very pleased that Givaudan has been able to develop its own strong leaders, and in particular, that our current Vice-Chairman, Calvin Grieder, accepted to stand for election as new Chairman at the Annual General Meeting in March 2017. With the retirements in 2016 of Adrien Gonckel, Chief Information Officer, and Matthias Währen, Chief Financial Officer, both of whom receive my warmest thanks, we have been able to expand our Executive Committee and ensure seamless transitions with key management appointments from within: Tom Hallam, who became Chief Financial Officer in January 2017, and Anne Tayac, appointed in July 2016 as Head of Givaudan Business Solutions.
Looking forward, I have every confidence that Givaudan will continue to grow with its customers based on a unique business model, strong capabilities, solid financial position and highly skilled teams. Rooted in sensory expertise and deep consumer understanding, we will continue to invest in innovation, inspiring creations that delight consumers and cultivating a mindset that puts customers at the heart of everything we do.
My sincere appreciation and gratitude go to my fellow members of the Board of Directors, the Executive Committee members and all 10,476 employees worldwide. Their daily commitment and passion make Givaudan all it is today, and all that it can be tomorrow, by engaging people's senses, every day, everywhere.
Finally, allow me to express my sincere thanks to our shareholders for your trust. I am confident that Givaudan will continue its path of value creation in the years to come.
Dr Jürg Witmer
Chairman