Synchronight™
The microbiome-activated digital stress defender
Synchronight™ is an active cosmetic ingredient made from gardenia fruit extract designed to protect the skin from digital stress.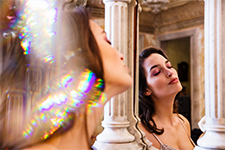 Activity
- Protects skin's melatonin production cycle
- Behaves as a vegetal melatonin-like compound when activated by the skin microflora
- Rejuvenates the skin and improve sleep quality
Applications
Anti-ageing serum or cream, night cream, well-being products, skincare for millenials, cosmetics to preserve from modern lifestyle damages.
 
Origin
Regulation

INCI China IECIC
Vegan suitable
Associated claims
Blue light protection, sleep quality improvement, safeguard melatonin natural production cylcle, skin protection, anti-wrinkles, antioxidant.