Neurophroline®
Overall skin stress control
Neurophroline® has been discovered in the wild indigo (Tephrosia purpurea), a native Indian plant used in the Ayurvedic tradition for its benefits on skin.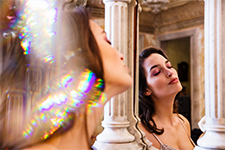 Activity
- Breaks down the cortisol production by skin cells,
- Activates the release of a natural calming neuropeptide acting on mood,
- Improves visibly skin tone in only two weeks, proving a fast action to control stress in skin.
Applications
Anti-ageing creams, Night and day creams fighting stress, Anti-stress / fatigue creams and serums, Dermocosmetics products, Eye care products.
Origin
Regulation

INCI China IECIC
Ecocert/Cosmos approved
Vegan suitable
Associated claims
Anti-stress / Skin defence, Anti-pollution, Calming/Soothing, Neurocosmetic, Radiance Enhancing