BisaboLife™
The sustainable biotech. (-)-α-bisabolol 
BisaboLife™ contains (-)-a-bisabolol, one of the main compound of Matricaria recutita, known as Chamomile, an age-old medicinal herb used in ancient Egypt, Greece and Rome. It is well-know for its multiple biological benefits and its highly biodegradability.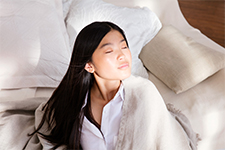 Activity
- Soothes the skin by inhibating 5-lipoxygenase, IL-1a IL-5a and TNF-a,
- Interfers with ROS,
- Has anti-infective properties,
- Increases bioavailability of molecules,
- Inhibits melanogenesis by lowering intracellular cAMP levels
- Reduces scalp irritation down to -25% in 2 weeks.
Applications
Day and night creams for sensitive skin, Cold creams, After-sun, Post-depilatory,Post-peeling, After-shaving, Shampoos for sensitive scalp, Face cleansers, Razor blade strips, Body washes, Bar soaps, Depilatory creams, Perm treatments
Origin
Regulation
INCI China IECIC
Vegan suitable
Halal certified
Kosher certified
Associated claims
Calming/Soothing, Anti-oxidant, Anti-redness, Hair & Scalp care