A collaborative space for creativity in Asia Pacific
Givaudan's new creative centre in Singapore was built to get the best out of our creative teams.
Singapore creative centre
For many creative people, being in the right working environment goes a long way towards encouraging artistic output and inspiration. It was with this in mind that Givaudan's new Singapore creative centre was conceived. Although built to serve the Company's important global and regional fragrance customers, the state-of-the-art structure is also specifically designed to nurture creativity and dynamic interactivity within the Asia Pacific Fragrance team.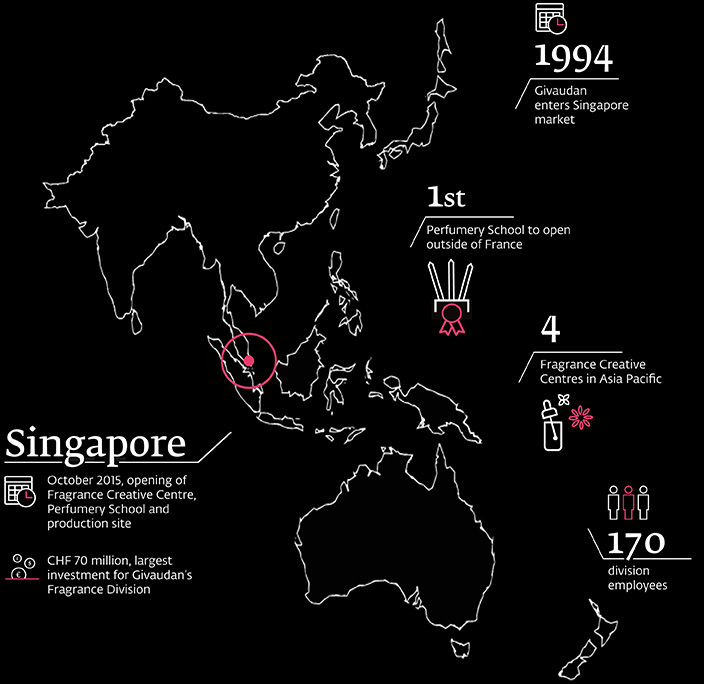 Jeremy is Regional Head of Fragrance for Asia Pacific and explains how a culture of creativity was woven into the very structure of the new building: "Exchange and collaboration really was part of the architects' remit and strongly influenced the building design, to the extent that we have an 'elevator-free' centre. Although this seems radical, in reality it promotes friendly chats in the stairwell and free-flowing walks through the building, making people physically closer to each other." He continues: "Exchange between perfumers and creative teams is encouraged through open-plan environments which are conducive to sharing and interaction. These are contrasted with dedicated private spaces where customers can safely discuss and explore confidential projects. The new building is truly fit-for-purpose, built around our internal culture of openness and a suite of very specific creative and commercial needs. The beautiful space, which is highly modern and appealing, is truly a place where our teams can flourish: we are offering them the best so they can create the best."
Serving local and regional customers with speed and insights
The presence of this creative centre not only brings this facility up to the standards of Givaudan's global 'norm', but optimises the relationship with large global and complex regional customers in the area, notably through faster turnaround times, as Jeremy explains: "Both our local and global customers are benefiting from our state-of-the-art technology and optimised work space: perfumers, evaluators, marketing and sales collaborate more effectively, which allows more to time to focus on consumer and market insights and increases our speed of response. The rate at which some of our customers work is very, very fast as they try to grab new opportunities in this dynamic region."
"It may seem radical, but the new centre is an 'elevator-free' space. A free-flowing internal design with stairs truly promotes interaction."
Space to study… and to soar
A key feature of the centre is the state-of-the-art Perfumery School campus, the only one of its kind outside Europe, and a highly contemporary extension of Givaudan's 68-year old flagship Perfume School in Paris. Students at the elite new school – an intake of just two this year – have their own laboratory and space to create, away from the hustle and bustle of Givaudan's daily business.
Claude, Vice President Perfumer and the Asia Pacific Perfumery School Ambassador, describes the importance of this approach:
"Our students are not part of the business yet. They are embarking on an intense four-year apprenticeship and need space to study and develop their skills. Allowing trainee perfumers to work quietly in their own laboratory means they can concentrate on acquiring the fundamentals of perfumery – and start to commit to memory over 1,000 raw materials they need to know before they start creating!"

Claude outlines how interactivity is still core to the curriculum: "Our Singapore students are not confined to an ivory tower – they will be very connected to their Paris peers: they'll 'meet' through regular video conferences, gearing up to their 12-month international exchange, which happens in year three. The curriculum progressively becomes more interactive, and at the end of the programme they will form a close-knit team of highly skilled perfumers who will collaborate from around the world as they embark on their careers."
This strong desire to foster creativity is an attractive business quality that Claude believes will drive new talent to the Company in the coming years: "The new centre is attracting a lot of coverage, and we are delighted that students who have shown interest in the Paris school can now be welcomed closer to home. Part of a perfumer's skill is being able to tune in to cultural olfactive preferences; by nurturing talent from this region, we will not only give local students a fantastic springboard into this exceptional industry, but will truly be able to serve our customers here through a deep understanding of their needs."