Revolutionary 'olfactory alarm clock'
French inventor Guillaume Rolland is behind Sensorwake, an exciting innovation which successfully uses scent instead of sound to wake people up. Givaudan's Paris-based innovation team helped this young entrepreneur develop a delicious palette of morning aromas for his revolutionary 'olfactory alarm clock'.
When Givaudan met Guillaume, the young French entrepreneur had impressive credentials, having scooped the Google Science Fair Award and had his device listed among Google's top 15 'Innovations to change the world'. Sensorwake uses scent to stimulate the senses in an effective and original way, which made it an ideal partner for Givaudan's recently established Innovation team. This internal team has a mandate to develop new creative concepts for the fragrance world and to promote and propagate innovation within the organisation.
Scents to get out of bed for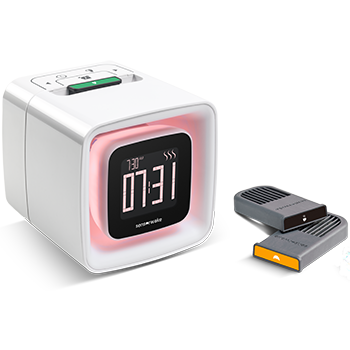 Scents to get out of bed for
With their finger on the pulse, the innovation team has a nose for trends. After hearing Guillaume talk about his desire to design more fragrances for his device, the team reached out to the start-up and both partners recognised a complementary fit.
A dynamic partnership was born: Guillaume brought his ideas and entrepreneurial way of working to the collaboration; Givaudan offered fragrance creativity and applied expertise.
Three leading perfumers from Givaudan's Fine Fragrance and Consumer Products business units immediately began creating scents that people would get out of bed for. 
The result was seven quintessential morning fragrances: hot croissant, buttered toast, fresh coffee as well as seaside, chocolate, cut grass, and mint. 
Keeping pace with a start-up
Keeping pace with a start-up
Guillaume's fast-paced start-up mentality echoed the creative energy and methodologies that the Innovation Team strives to live by. As Aurélie, our perfumer commented: "Sensorwake comes straight from the start-up world and Guillaume's team moves at lightening speed! Our in-house ideas lab, which is small and lean, is also designed in a start-up style. We were able to keep pace with Sensorwake and we proved ourselves to be agile and resourceful: we managed to develop, produce and market fragrances for Guillaume far quicker than usual. This demonstrates the whole purpose of the Innovation Lab – to stimulate ideas, whilst being highly responsive, too."
As Guillaume remarked: "Givaudan was really flexible, despite being a really large company: they were able to understand the start-up ecology, which is essential for supporting innovation."  
A new insight for the fragrance world
A new insight for the fragrance world
The project also surfaced a powerful new industry insight that, according to Aurélie, could mark a brand-new territory within the fragrance world. She explains: "The Sensorwake project shone a light on an original 'fragrance moment' that is not yet catered for, commercially. The concept of enjoying a lovely aroma when we first wake up hasn't been marketed or explored before. Fragrances are usually used later in the morning when we're getting dressed, or in the evening. The possibilities around this 'morning moment' are really exciting; we will definitely be exploring how we could use this for other customers in the future.
An ongoing partnership
Enriched by Guillaume's entrepreneurialism, Givaudan was able to adopt an equally agile way of working whilst supporting this passionate young innovator, and since the collaboration first begun, this on-going partnership has continued to thrive, start-up-style, with a flurry of new innovations.
Just a few months after the partnership began, Christmas 2016 saw the release of a special-edition Sensorwake fragrance for the French natural lifestyle store, Nature et Découvertes. The 100% natural scent, L'Orée des bois and expands the Sensorwake palette with a mossy, foresty aroma.
Brand-new 'Oria' 
More recently, Guillaume drew on Givaudan's long-standing research and learnings from the Givaudan Clinical Sleep Centre at Loughborough University, (UK) to unveil a brand-new product, 'Oria' just released in January at the CES, a global consumer electronics and consumer technology tradeshow held in Las Vegas.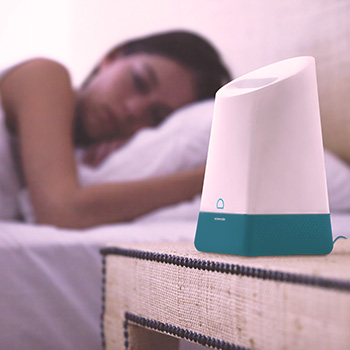 Oria is a device designed for the night table which uses the power of scent to improve sleep quality. It is the first device ever to use specially patented sleep-enhancing fragrances.
These patented fragrances, designed by Givaudan, are scientifically proven to help get people more relaxed, to fall asleep faster, sleep better and sleep longer. 
In fact, these studies are the first in the world to identify and prove the impact of fully formulated patented fragrances on sleep quality.
Oria comes with two scent capsules created by Givaudan perfumers, designed to be used in tandem, and diffused one after the other. The first helps people fall asleep faster and evokes comforting scents of powdered rose, peach, pear and talc; the other helps maintain a deep, regenerative sleep state and evokes familiarity through aromas of fresh linen and milky-sandalwood.