The potent appeal of patchouli

Component content
Arguably one of the most sensual scents on earth, the deep, earthy, woody notes of patchouli are found in some the world's most famous fragrances. 
From fine fragrances like Opium by YSL to major fabric care creations, all are inspired by patchouli's, strong, earthy character. From Victorian times to the hippy movement, patchouli has never lost its appeal: Givaudan perfumers love to work with this precious natural, trying new combinations which break with convention and reveal its pure beauty, making it relevant for today.
Walk through the patchouli fields with our perfumers
Component content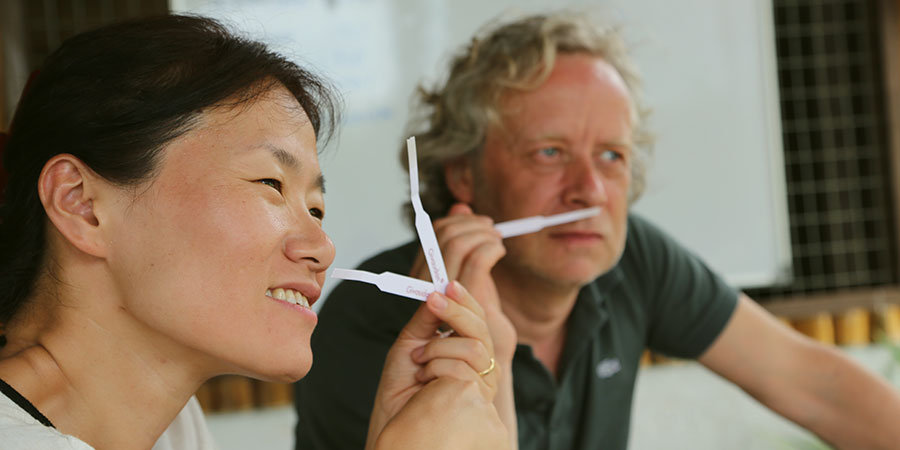 Walk through the patchouli fields with our perfumers
Perfumers Jacques and HeSoon are so passionate about patchouli they have made it their creative vocation. 
"Add patchouli to a fragrance and it starts to 'vibrate' – it's like a heartbeat, bringing a scent to life."

Jacques, Perfumer
Why our passion for patchouli makes us a partner of choice
Component content
Why our passion for patchouli makes us a partner of choice
Being an expert in patchouli means always delivering a material of high quality, and showing customers how to work with it in exciting new ways.
In Malaysia, we have a dedicated partnership that combines a plantation and a distillery on the same premises. By growing the plant and extracting the patchouli oil in the same place, we can develop very unique, special quality oils exclusively for use by Givaudan perfumers. Customers can then be inspired by these oils to develop new patchouli creations.
Innovating in patchouli means anticipating the needs around this raw material, now, and in the future. 
As patchouli is used in fine fragrance and in consumer products, it is always in demand. To ensure supply and quality never stalls, we established a collection network in Indonesia buying patchouli directly from local, known producers. We offer training schemes to help growers and distillers optimise quality and yield.  More importantly, we create a direct regular outlet for their patchouli crops and oil.
Creativity in patchouli means leveraging our secure supply of this fragrant plant to unleash our perfumers' artistic expression. 
Giving our head perfumers the best possible materials to work with inspires them to dream up exciting new accords that show off this bewitching and sensual scent. By redefining patchouli and rediscovering its potential we can surprise consumers with exquisite new blends and bring innovative fragrance possibilities to the market.
Component content
Mystical and poetic; learn about the role we play in the patchouli world
Responsible sourcing programme
Component content
Responsible sourcing programme
We have always shown leadership in responsible sourcing, traceability, and transparency to meet our customer, consumer and environmental needs and expectations; Givaudan was the first in the flavours and fragrances industry to publish a responsible sourcing policy. Sourcing4Good is based on collaboration and knowledge-sharing, experience and expert input from suppliers, customers and partners.