Meet Onno, one of our perfumers
Having trained in Grasse and in Argenteuil as a perfumer, Onno has dedicated his career to scenting everyday consumer products.
Here he describes where he finds his creativity, the technical challenges of fragrancing home and personal care products and the importance of knowing what's different and new.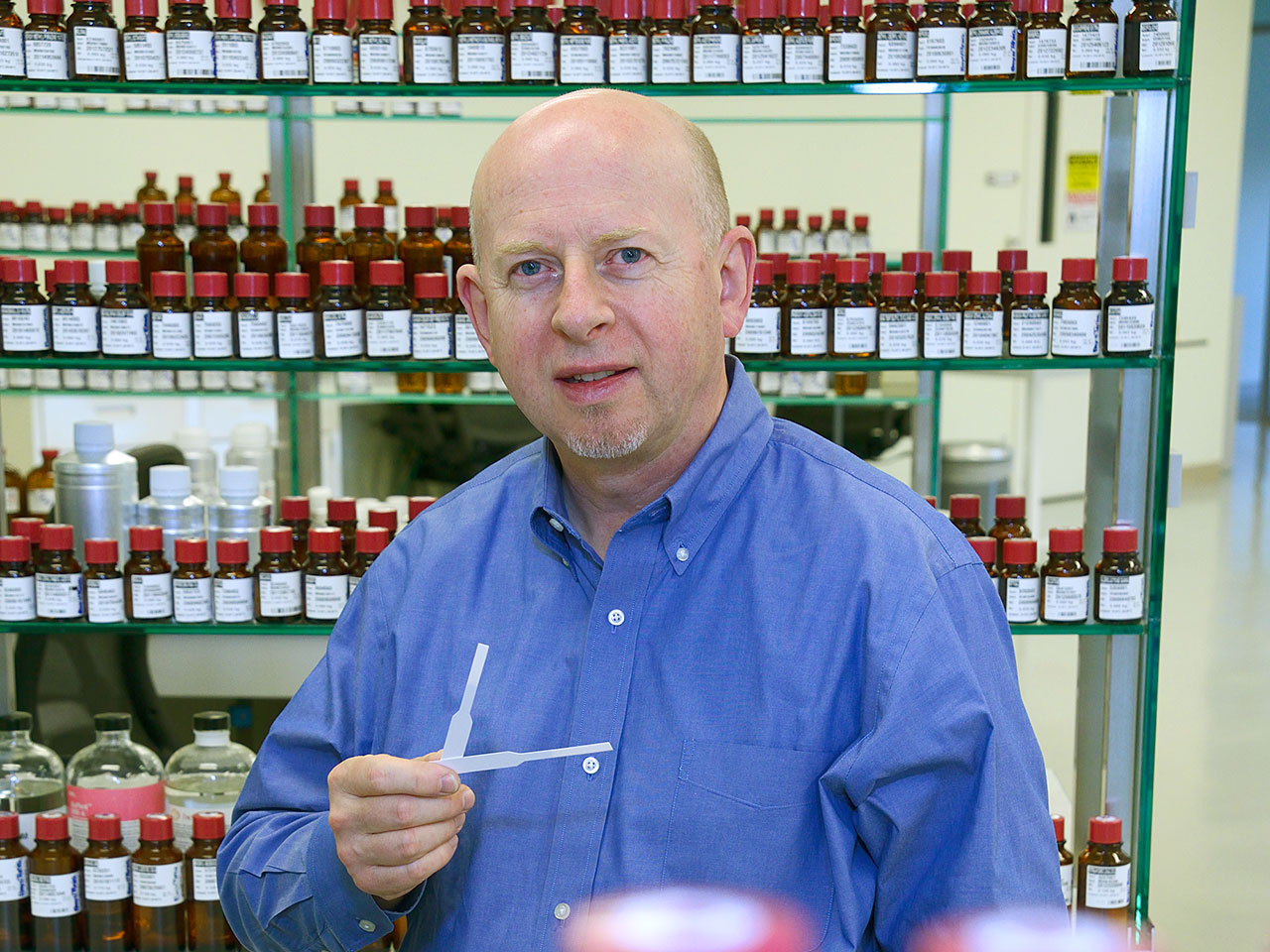 People think you have to have a highly sensitive 'nose' to be a perfumer, but that's not actually the case.
If we were 'super smellers', we wouldn't be able to create meaningfully for ordinary consumers. What is required is a strong olfactive memory: the ability to recall and imagine scents. I can probably remember around 3,000 ingredients. That's part of the training and tools offered by the Givaudan Perfumery School. However, it's true that perfumers are probably 'transported' more quickly when we smell something.
People expect to be surprised and delighted when using everyday products.
It takes both an interest in the arts and a scientific background to create scents for personal and home care products. Of course, the people need it to smell good, but the fragrance can also enhance the product, to make it function better. The scent also needs to be compatible with the product base, which can often present a technical challenge. I strive to constantly invent scent solutions to meet these challenges and to bring people joy when they perform the daily tasks of caring for themselves, their families and their homes.
I can turn my hand to perfuming any product, from a shampoo to a surface cleaner.
My original interest was  personal care, but over time I was able to hone my abilities as I evolved along with Givaudan's consumer products business. At some point in my career I developed skills in laundry and aircare; more recently I've added  surface and homecare. Each category has different needs, but consumers now expect the fragrance to perform many diverse functions during all phases of use. That's why I think that designing for this category is often like creating a 'fragrance within a fragrance' to support all those functions in those phases!
People have expectations as to how a product will work, and we need to deliver on that.
The challenge of consumer products is that each item has a different demand. A deodorant fragrance will need to mask odour. A fabric softener perfume has to smell soft, clean and be long lasting. A face cream requires another approach. Cleaning products often present challenging base formulations and fragrances have to be designed to withstand those harsh environments.
Perfumers for consumer products are not in the public eye, but consumers still appreciate what we do – today people are very knowledgeable about scent.
It's true that fine fragrance perfumers are personalities: they're talked about in the press and they are the rock stars of our industry. We are rather like the 'ghost writers', providing the creativity, but ultimately lending our talents to another name. I take satisfaction from creating iconic scents for the world's biggest personal care and household brands, and I also know that a pleasant perfume plays a key role in consumers' behaviour: almost all of us sniff products before we buy them, and certainly before using them.
I get ideas all the time, but I must ensure they match the trends.
A good consumer product hinges on its scent. What is exciting today is that people are very scent aware: users are blogging and talking about scent more now than in the past. People are always looking for more relevant scents and this is spurring the industry to innovate and deliver these types of fragrances. As well as meeting trends, we also drive them as Givaudan stays abreast of ever-evolving consumer tastes.
People are always surprised to learn that consumer product fragrances have cycles, like fashion.
Tastes for scent evolve: if you were to smell a shampoo from the 90s, you'd know it was from that era. Consumer tastes move in cycles. For example, a decade or so ago, European consumers preferred crisp, green scents, and the American consumer preferred more edible fragrances. Today the USA has become more eco-aware, and that's being echoed in fragrance trends, which are becoming lighter and more watery – and Europeans now appreciate heavier, sweeter scents that last.
We track trends all the time: we need to deliver the right trend, at the right time, to the right audience.
The creative process doesn't stop at simply creating a perfume: we also enhance the brand's identity. The logo, pack or colour all make up the fragrance personality. If a product evokes a natural positioning, then the fragrance has to smell that way and we design to that brief. There must always be a coherence of messaging for it all to make sense to the consumer.
I do have a favourite smell, but I can't integrate it into my work, or make my creations too personal. 
I have to recognise that there are a wide range of tastes. What I like, someone else might dislike, so I cannot let my personal taste drive the creative process. Through my work, I am lucky to have access to a wide range of very fine essential oils and I love experiencing them. Some have strong personal associations; for example, lavender always reminds me of when I first saw those iconic Provencal fields.
The iconic fragrances in my life are those I've created and those with special memories.
Even though I may not gain public acclaim, I am proud of the fragrances I have created, in particular the ones that became iconic over time. Other scents that make an impression on me are the ones that take me back to childhood. I was born in the Netherlands; when I smell a classic citrus cologne, in particular the distinct scent of 4711, I am instantly transported back to hot summer days spent with my grandmother, who used it as a refreshing, uplifting perfume. That's the beautiful power of fragrance: it goes beyond being a scent to become a whole sensory experience.