Leading from within
'Leadership Senses' is our inspirational new growth programme for managers. We believe in unlocking the potential that lies within all our employees, helping them achieve professional and personal growth, giving them a foundation from which to impact and shape their world.

These bold aims are encapsulated into what we offer as an employer and incorporated into our new 'Leadership Senses' initiative. Launched in 2014 by Givaudan's Global Learning & Development team, the initiative has four programmes – Begin, Grow, Evolve and Enhance.  
The four programmes include specific modules created by the Company's 50-strong leadership team, together with inputs from top-ranking business schools, feedback from our employee engagement survey, as well as the guidance from professional management coaches. In essence, as Jane, Head of Global Learning & Development states: "It's the best of internal and external current thinking and highly personalised. Our Executive Committee has been directly implicated in its creation, meaning that Leadership Senses is totally bespoke, and an expression of our DNA. This is translated into a highly personal dimension of the programmes, and a strong emphasis on individual growth."
Jane explains why a special tailor-made approach was required: "The flavour and fragrance industry has unique needs and there are challenges in recruiting the right talent and knowledge. In addition to looking outside the company, we're seeking to nurture internal talent, developing our pipeline in order to be able to equip our leaders for the future. Like all companies, we're aiming for growth and performance, and we recognise that this starts from within."
In recent times, we have become more comfortable getting to the heart of what we want to be and do, and being more explicit about what we want our current and future leaders to achieve. It's not just about being professionally competent, but about true leadership, which comes with self-knowledge... This is why incorporating the essence of who we are – our DNA – is central to the programmes."
Critically, it's not just those in management roles that will benefit, as Jane states: "We believe that everyone deserves a good manager and Leadership Senses will provide role models to inspire the leaders of tomorrow. A great manager brings out the potential in people and cares about people's careers, so that everyone will benefit."
This nurturing approach, with its uniquely personal twist is designed to give employees the confidence and inspiration they need to truly grow and shape their world. Results have been overwhelmingly positive, with employees stating that the Leadership Senses journey provides the essential space they need to truly focus on goals and ambitions – for themselves, their teams and organisation overall.
Our Leadership Senses programmes
Managing people for the first time can be challenging. We support our managers by developing their self-awareness, building skills in effective communication and helping them to give constructive feedback and manage conflict positively.
Growth is the next level; supporting managers with continued self-reflection and refining leadership skills, as they grow into their roles. Grow helps managers to motivate their teams and inspire others by demonstrating the Givaudan DNA.
Looking towards the next role, we support our managers through deeper development of themselves and their external influences, with assessment tools, professional coaching and leadership projects to challenge and inspire.
Leadership Senses Enhance
We support the members of our executive community in their development to ensure the right direction of our future leadership as role models for our people, living and breathing the Givaudan DNA.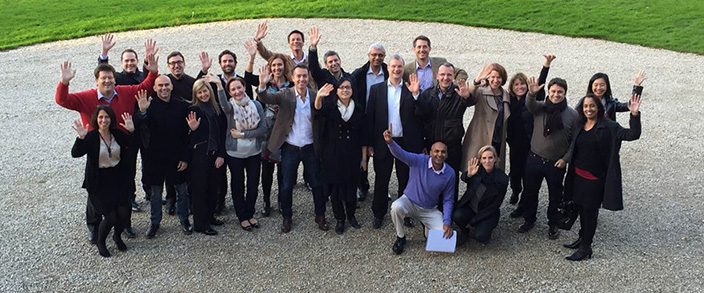 Irene, Flavour Division Director, Jakarta
Irene recently completed the 'Evolve' course. Here she explains the transformative power of her experience:
"I finally gave myself permission to aim high – really high!"
"Anyone interested in their career will typically watch inspirational TED talks, read articles, go on a course and try to grow that way. All that is well and good, but then we get busy, get into our lives and it's hard to find the space to put those intentions and ideas into action. Frankly, this course reinvented me. It gave me time out from my management journey to look at myself, my strengths and weaknesses and receive the support to build on those. On a personal level, I realised I was a natural leader, and I was given the motivation, or permission, even, to aim high, to match my ambitions to those of the Company. I gained perspective, and it has totally transformed how I approach some of the trickier aspects of my job. On a more general level, my Evolve group, deliberately made up of people from divisions we don't usually work with, had an enormous sense of camaraderie, created by the peer coaching system. And that's the trick: there is so much we can learn from each other, and the management team has recognised that. Although we have two areas of expertise – flavours and fragrances – we are one company, and that company is on a journey. This programme is part of that vision and I was very proud to be part of the first batch of candidates!"
Raul, Senior Account Manager, Venezuela
Raul recently completed 'Begin'. He explains the ways in which the course instantly changed his management style:
"I saw myself through new eyes."
"Although I only manage one person, I know that I am now a much more effective manager, as I am communicating differently; I am changing reactions from people around me, tailoring my messages to the needs of my audience. Frankly, I thought the course would be more traditional – learning how to lead to get specific results – that sort of thing. But that's why I was very surprised by it – in a good way. It helped me explore my strengths and weaknesses, in particular, how I deal with people in specific situations and how I can adapt my behaviour to get different results. This latter insight was very, very useful – I learnt about how people perceive me, and it's different to what I thought. I've been given a lot of feedback and I also think the person I manage has a much clearer idea of what is expected, now. The course was a real eye-opener and I know I have already changed."